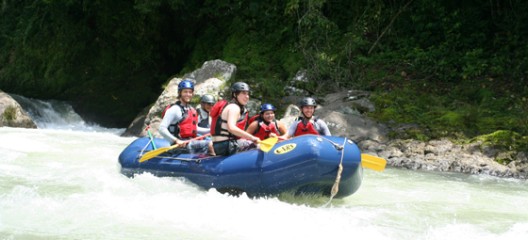 Pacuare River Info
The Pacuare River in Costa Rica is truly a world class river and features a great combination of exciting rapids and beautiful scenery. It is an experience that will be impossible to forget, and an opportunity to be immersed in nature like you have never been before.
The Pacuare River is divided into about sixteen different sections of river. Starting from the top of the river, the three sections most commonly run are known as The Upper Upper, The Upper and The Lower.
The Upper Upper Section (Rio Pacuare)- This run is approximately 16 miles (26 km) long and contains numerous class II and III rapids. This section is commonly run due to the logistics necessary to reach the put-in. You can raft or kayak this section of the Pacuare River.
The Upper Section (Rio Pacuare)- This more technical section consists of approximately ten miles of whitewater including multiple class IV and V rapids as well as waterfalls. The take-out for this section is Finca La Cruz. This section is mostly run using creek boat whitewater kayaks.
The Lower Section (Rio Pacuare)- This is the section of class III and IV whitewater that the Pacuare River is most famous for. Running approximately 23 miles (and dropping approximately 1200 feet) from Finca La Cruz to the town of Siquirres. This section of the Pacuare River can be done in a single day trip or as long as a three day trip. The highlights of this section include the whitewater rapids and the waterfalls that flow into the river in the Huacas River Gorge. The rapids include Upper and Lower Huacas (class IV), Double Drop (class III), Cimarones (class IV) as well as multiple others.